Second grade at Ellsworth Elementary School in Miss Donley's class has been very tasty the past few weeks with all of the chocolate activities we have been doing! We love chocolate in second grade and have thoroughly enjoyed being a part of this exciting internet project.

We started out our study by doing a read-aloud of The Chocolate Touch by Patrick Skene Catling. As the students listened to the story, we discussed it and the students drew pictures to correspond with various parts of the story. The students were also allowed the opportunity to draw a picture using Scholastic Keys Max Write. The students loved listening to The Chocolate Touch and were begging for more chocolate activities!

Our next big project was to be a part of another online project involving Oreo cookies. We loved this project as well and we used Oreo cookies and Mini Oreo cookies to measure everything from our pet pumpkins to an actual fire truck (after all it was Fire Safety week)! We wrote about our adventures and even blogged our results! It was fun to see our information on the internet with the results of others from all over the world!

After our Oreo work was done we moved on to brainstorming all of the different types of candy bars that we could think of. We used Kidspiration to help us with our brainstorming. We then used the internet to find the birthdates and a few facts about each candy bar. Most of them could be found at www.hershey.com or from sites that branched off of www.mars.com. Also helpful to us was www.candyusa.org. We wanted to team up with the fourth grade students in Mrs. Schulte's class who were also participating in this online project so we joined them in creating a timeline showing when the candy bars where introduced. We have been studying time order words lately so this timeline was a big help to us. We also loved working with our fourth grade buddies.

Recently, we also read the book Curious George Goes to a Chocolate Factory by Margret & H.A. Rey. We love Curious George and we ended up curious ourselves to find out more about what a visit to a chocolate factory would be like. We were so curious that we decided to go on a virtual tour of the Hershey's chocolate factory. We went to http://www.hersheys.com/discover/tour_video.asp and went on a very tasty tour!

As a tasty ending to our chocolate unit we thought that it would be fitting to read The M&M's Brand Chocolate Candies Counting Book by Barbara Barbieri McGrath and More M&M's Brand Chocolate Candies Math by Barbara Barbieri McGrath. We then actually got our own M&Ms to count and do our math with for the day. We used Scholastic Keys MaxCount to graph our color results. We did individual graphs and we also did a class graph to compare our results. We also wrote our names with our favorite M&M color in Scholastic Keys MaxWrite. We had to add up and find the total of how many M&Ms it took to write our names. Of course we finished the day by eating M&Ms! We also plan on still making our own class M&M counting book using Scholastic Keys MaxShow. Each student will come up with his/her own page to add to the book.

Overall, we are very grateful to Ms. Silverman and Ms. McGowan for thinking up such a wonderful project so that we could participate! We had a very delicious and chocolaty good time!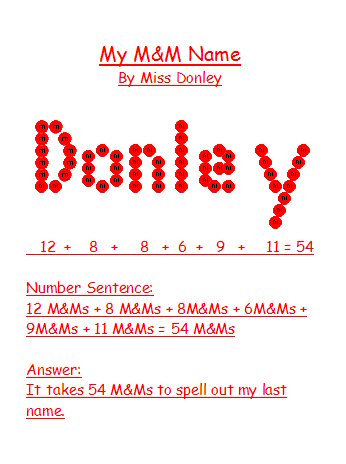 Created With Max Write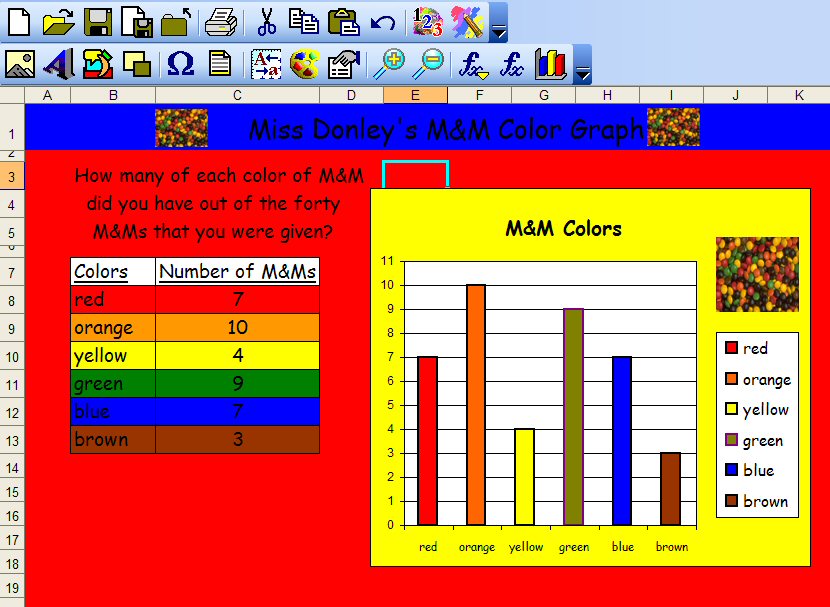 Created With Max Count