We have just finished spending an entire month studying Chocolate and reading Chocolate Stories. The students learned where chocolate comes from, from what countries, and interesting facts. I read aloud "Chocolate Fever", "The Chocolate Touch", "Cat Chocolate", "Cam Jansen and the Fudge Mystery", "The History of Chocolate" and "A Big Block of Chocolate".

As we are a split class, the Grade 1s did "Beginning, Middle, End" strategies, using Chocolate Fever, with either a grade 2 or a parent scribing. A few students wrote on their own. The Grade 2s wrote in their journal whether they wanted to have Henry Green's Chocolate Fever or John Midas' Chocolate Touch and why.

For math, the students took part in the O.R.E.O. Cookie Challenge for two days, an M&M Counting time and O.R.E.O. sculpting with their buddy class (grade 5/6). For our final event, we went into the kitchen and made chocolates. YUMMY!
This is Henry Green (Chocolate Fever), using Kidpix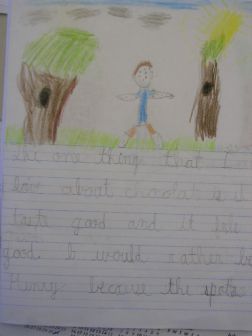 A journal entry from a grade 2 student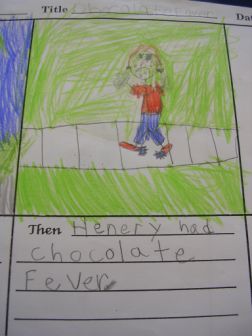 A journal entry from a grade 1 student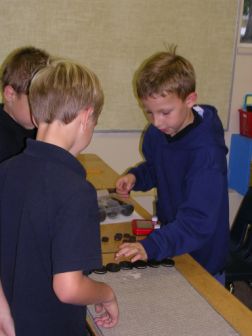 O.R.E.O. Cookie Challenge