I read the book, Chocolate Covered Ants, by Stephes Manes, to my fourth grade inclusion class. My students used Microsoft Office Word 2003 to compose original stories and poems about chocolate. We also took a survey of our favorite types of chocolate -- white, dark, or milk. Dark chocolate won! Results were tabulated by the students and presented in bar graph, circle graph, and table form, using The Graph Club 2.0.
We surveyed 21 people to find what their favorite chocolate flavors were. Here are the results!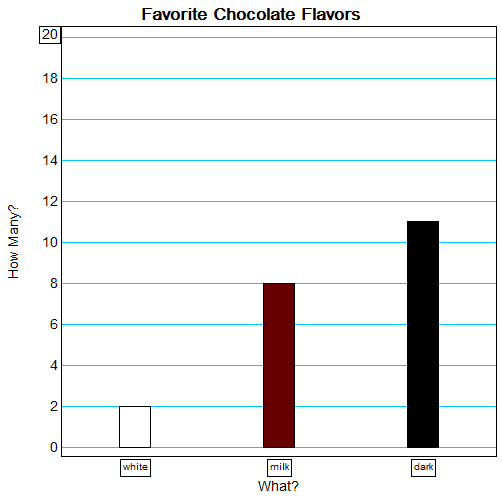 Creative Writing
Chocolate, Chocolate
By Christina
Chocolate, chocolate
Is so sweet
Chocolate, chocolate
Sticks to my teeth
Chocolate, Chocolate
Is very good!
Chocolate, chocolate…
I just wish I could!
---
A Story About a Boy Named Pete
By James
Pete is sad
Because his dad
Didn't let him
Have any more chocolate.

So Pete stayed in his room
Until his dad said,
"Come down!
Have a little chocolate!"

When Pete went downstairs
He figured out
They had a cake
Covered in chocolate EVERYTHING!
---
CHOCOLATE
By Selena
Chocolaty goodness
Hershey kisses
Oh! I love chocolate!
Cocoa beans
Overweight if you eat too much!
Luscious, smooth, dark chocolate
A chocolate covered apple
Tender goodness
Everyone loves chocolate!
---
The Chocolate king
By Kyle
ONCE upon a time, there was a boy named kyle. Kyle loved chocolate so much that his nickname was fudge. He had a chocolate sculpture made of himself.
One night, Kyle's friend, Chris, slept over. Suddenly, in the middle of the night, the chocolate sculpture came alive! It said, "I am the chocolate king!"
The chocolate king was no match for Kyle and chris, though! As the chocolate king reached out his hand to grab the boys….they ate him!
---
Chocolate in the house!
Get it out before I pout!
And if you don't, I' think
I'll turn you into a chocolate drink!
by Nick
---
Chocolate World
By Jacqueline
If I lived in a chocolate world, everything would be chocolate. The beds would be chocolate bars, and the pillows would be kisses. My house would be a chocolate house. I pool would be filled with chocolate milk, and I would take a bath or shower in chocolate syrup.
For breakfast, I would eat chocolate chip waffles, and for dinner I would dine on spaghetti with chocolate syrup on top. Oops! I forgot about lunch! I would enjoy chocolate chicken nuggets dipped in chocolate BBQ sauce. For dessert, I would enjoy chocolate cake.
Oh, I would love chocolate world!