Mrs. Rosati's first graders in Bloomfield, NY, used traditional Cinderella stories as an introduction to the elements of a fairy tale. Then they listened to Fair, Brown and Trembling, an Irish Cinderella story by Jude Daly.
Three daughters, Fair, Brown and Trembling, live with their father high among the green hills of Erin. Trembling, the most beautiful one has to stay home to do chores, while her sisters go to church on Sunday. The fairy godmother is an old henwife who provides Trembling with beautiful gowns and horses to carry her to church. Everyone notices the beautiful girl standing in the doorway. The prince of Emania grabs her slipper and after a long search finds Trembling. He competes with several other princes, marries her, and of course, they live happily ever after.
After discussions about the traditional fairy tale and the Irish version, the class made lists of good characters, bad characters and magical events. Many similarities and differences were noted and they easily sorted them in the following Venn diagram.
Students then chose an idea on the diagram to write about one way the stories were the same or different.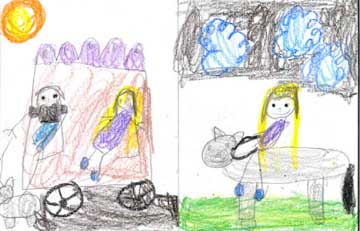 Trembling rode on a horse. Cinderella rode in a coach.
By Cori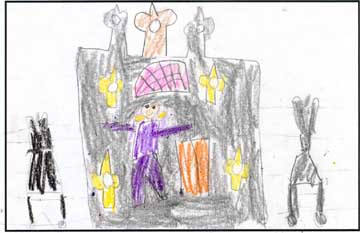 There was one prince in Cinderella.
In Fair, Brown and Trembling there were a lot of princes.
By Matt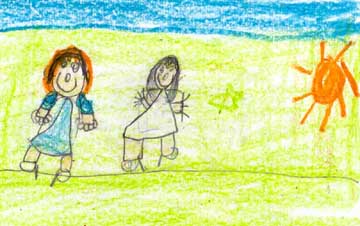 Both Cinderella and Trembling wore slippers.
By Emily.
We concluded this project with our very own Cinderella's Ball. Each child looked the part in wonderful costumes. The classroom was decorated with colorful streamers, balloons and tiny lights. Each guest was formally announced as he or she entered the room. Of course, when His Royal Highness the King and Her Majesty the Queen arrived all curtsied or bowed. There was lively dancing and fancy treats were served. The highlight of the ball was when Prince Charming tried the glass slipper on a few of the guests, only to find that it fit Cinderella perfectly. Together, the smiling couple began the final dance and then they went off to live happily every after!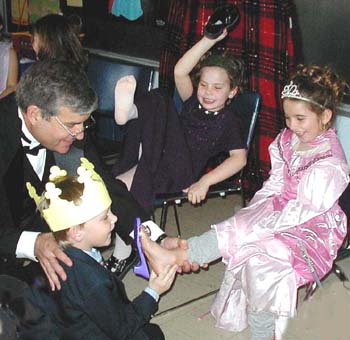 The slipper fit Cinderella perfectly, and they lived happily ever after!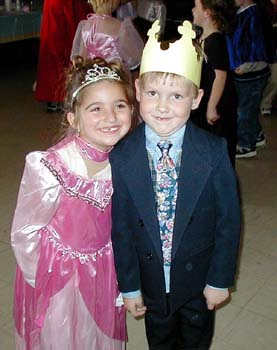 Johanna and Will as our Cinderella and Prince Charmin
To see more about our Cinderella project, please visit our class website
New York State Learning Standards for English Language Arts

Standard 2: Students will read, write, listen and speak for literary response and statement. Write in order to respond to text to describe characters, setting or events. Listen to imaginative texts and performances in order to appreciate and enjoy literary works, and identify character, setting, plot.

Standard 3: Students will read write, listen and speak for critical analysis and evaluation. Write to express opinions and judgments in order to compare characters, settings and events within and between stories. Listen in order to recognize differences in two or more versions of a familiar story.