Chris's Webfolio
Introduction
Hello, my name is Chris. I like to color. My favorite food is icecream. When I grow up I want to be a vet.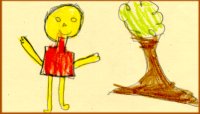 September 9, 1999
Reflection: It took a long time to make. It was easy to make.
---
Math Fact Family
September 30, 1999
Reflection: I like the grave.
---
Bats
Have fingers
Can live in trees
Use echolocation
But the most important thing about bats is....
They eat insects.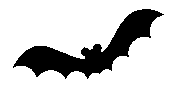 October 28, 1999
---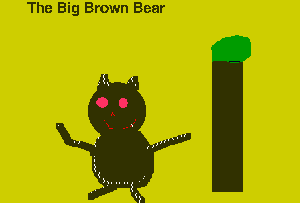 November 4, 1999
---
Friendship Poem
Tyler
Friendly, smart, boy
playing, running, sliding
My friend likes to go in a big pool
My friend
November 17, 1999
---
My Day at the Market
I had peanuts and chocolate. I bartered a chocolate for pretzels. I bartered peanuts for a Mary Jane. I bartered a peanut for a lolly pop. It was fun to do.
December 8, 1999
---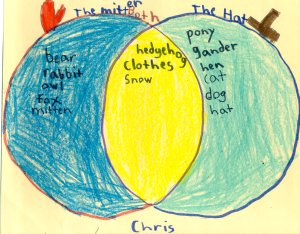 January 7, 2000
---
Why Rabbits Have Fluffy Tails
Once upon a time there was a rabbit and he was running too fast because a farmer was chasing him. The rabbit's name was Jumper. When he got into his warren he was tired so he sat on the dryer. By accident his mom closed the dryer on his tail and his mom could not open it. "Oh no, my tail is fluffy!" So after a while he got used to it. That's why rabbits have fluffy tails.
March 24, 2000
---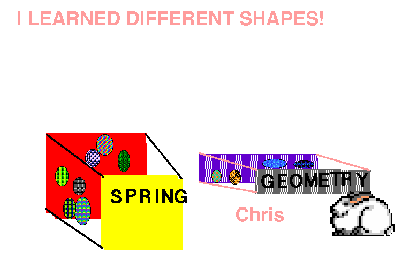 April 4, 2000
---
Shark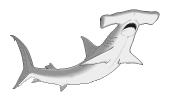 S harks don't hurt people
H ammerhead sharks have a funny head
A lso hammerhead sharks are gray
R eally don't hurt sharks
K ind sharks
May 12, 2000
---
The Fat Shark
Once upon a time there was a shark named Chris. All he wanted to do was eat and eat. He was a fat shark. But one day another shark said to Chris, "How come all you do is eat?" Chris said, "Because I want to." The other shark said "OK." Then Chris went to bed. He dreamt that he was fatter than his house. Every day after that he ate healthy food.
June 6, 2000