Brianna's Home Page
My Second Grade Memories
My second grade teacher Mrs. Silverman is my best second grade memory! I will never forget her. I was so happy to have her! The first unit we did was the apple site. I still remember it. We learned some other things too like countries and animals. I also loved my website! That was my second best thing! The computers are my third best thing. I met a lot of friends. But Dana is my best friend. I'm sad :-( because Dana is going to Terryville and I'm not. I will not forget anything! I will miss everything in Mrs. Silverman's class. We learned about a lot of things. My favorite was chocolate and a lot more. Chocolate was very exciting! We got to watch "Willy Wonka and the Chocolate Factory." I liked the part when everything was candy! The movie was very interesting. Endangered animals was also one of my favorite things to learn. We adopted a bat. That was exciting. I will miss everything!
---
Mexico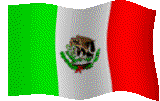 Food
The most popular food in Mexico is tortillas. But they also eat corn, beans, and rice. They always eat tortillas with a meal.
Sport
The most popular sport is soccer. They call soccer football.
Fiesta
At every fiesta there is a piñata. People try to break the piñata as hard as they could. At a fiesta there are bright colors.
Numbers
Here are some numbers in Spanish. Uno, dos, tres, cuatro, cinco, seis, siete, ocho, nueve, and diez. And that is my report.
---
Sometimes I Feel Like An Alpha
Sometimes I feel like an alpha because I boss my brothers around and tell them to be my slave. They say, "OK." Sometimes I feel like an omega. I feel like an omega getting in trouble and my brothers and sisters hitting me. I wish I could hit them back but if I did I would get in trouble.
---
My Favorite Part of Stone Fox
My favorite part was when the race started and when Willy won $500. The other parts were when he won the race. I think Willy was brave. Willy was very brave when he woke up with a swollen eye.
---

I am thankful for my mom because when I am sick she takes care of me. I am thankful for my dad because he goes to work and makes money for my family. I am thankful for my sister and brothers because they are always there in case I get hurt. I am thankful for my family because they are always there. I am thankful for my cat and hamsters. They are nice pets.
---
H aunted Halloween!
A lways get candy!
L ots of candy!
L olly pops and more candy!
O hh Ohh Boo!!
W itches are scary.
E ating different candy.
E verywhere I see a ghost!
N ice good candy!





---




Saturday Sancocho

The Andes people went to a marked and bartered things like eggs. Today we bartered candy. It was fun! I got a lot of candy. I liked it very, very much.



Sometimes I Feel

Sometimes I feel like a bear
Scared that somebody will hurt me.
When my mom and dad are not with me!
I am scared of climbing trees
Because I am afraid of getting stung by a bee!




---




Watermelon Math

Today we did watermelon math. It was fun. First we had watermelon. Next we counted the seeds. Then we did the histogram.






---

This is Brianna's first Kid Pix project.




---

Introduction

Hi, my name is Brianna. I live in Port Jefferson Station N.Y. I like to play school with my friends, it is fun. I have two brothers and one sister, I am the oldest. I am excited to be going into second grade. I am happy to have Mrs. Silverman for my teacher.