Alexander's Page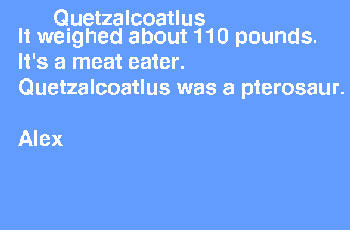 ---
My Trip to Mexcio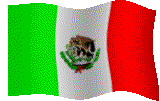 I went to Baja California. I went on a whale watch. It was even better then going to a temple. The whales I saw were giant and friendly. I also saw some fish. Just seeing these whales made me feel great. Just to tell you it was hot. I also saw some nice sea birds and that's all I can remember so that's my trip to Mexico. The End
May 19, 1999
---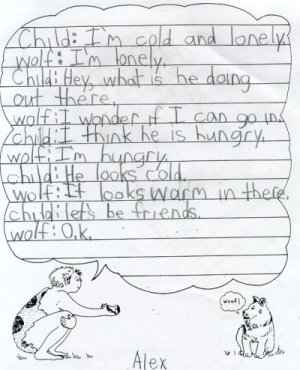 April 26, 1999
The above worksheet comes from a thematic wolf unit by Evan-Moor Corporation.
---
A Most Important Poem
A wolf...
Can hear another wolf's howl
One or two miles away
But the most important thing is
That it has pups before it dies.
April 15, 1999
---
Venn Diagram
A comparison of the original Little Red Riding Hood to the Chinese version, Lon Po Po
Reflection: I think I put a lot of effort into my work. I also am proud.
February 24, 1999
---
Reflection: I like my work. I think I colored neatly. I also think it looks good.
January 15, 1999
---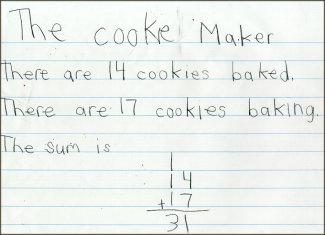 Dec. 21, 1998
---
SHARKS
S is for shark
H is for hammerhead
A is for Alex the shark
R is for rocks
K is for MaKo sharks that attack boats
S is for sand tiger shark

---
My Partner
I would pick K J because he is very smart. He is a good writer. I know he is a good speller because he understands well. He is a very nice friend. I know we'd get an A+.
---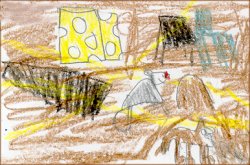 A mouse ran from a cat at an old house at 12:00 PM to get a slice of cheese.
---
Interaction
One day at school we tried to make a lightbulb light up with a battery and wire. We did it but we were the last ones to finish.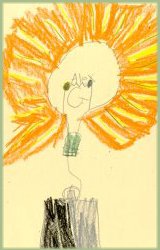 ---
Stregna Nona's Magic Lessons
by Tomie De Paola
Beginning
Bambolona went to Strega Nona for help.
Middle
Big Anthony tried to learn Strega Nona's magic.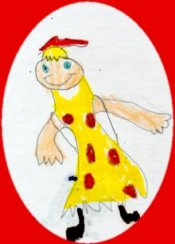 End
Strega Nona tricked big Anthony.
---
My name is Alex. I am 7 years old. I like school. I have a sister Cassie. She is 4 years old. My family is very nice. I help my dad cut the lawn. My mom's name is Diane. My Dad's name is Guy. I have a pet fish. I collect sports cards. My favorite sports are baseball and soccer. I like to play with my friends.