James' Page
Happy Birthday Dad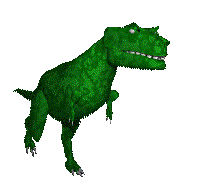 Happy birthday dad! I hope you like my gift. I got you a T-Rex. I found in tin the safari. It was really hard to pull in here. I hope it doesn't eat you! I wish you luck! I hope I see you again. I'll miss you, goodbye!
June 11, 1999
---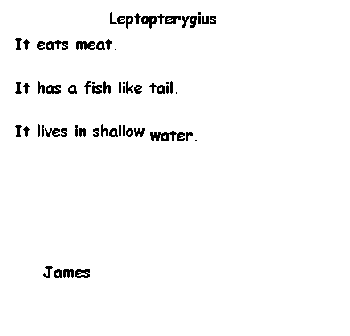 ---
My Trip to Mexico

One day I went to Mexico. I stayed at a first class hotel. I ate Mexican food. It was delicious. I went diving. The fish were beautiful. Then I went to sleep. I want to go back to Mexico.
May 19, 1999
---
The First Pet Dog
A long time ago there was a lone wolf. He found a cave. Inside there was a girl. The girl adopted the wolf. The wolf started to change. The girl gave the wolf a bone. The wolf ate the bone. The wolf howled. They both had a good day. And that is the story of the first dog.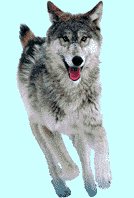 April 26, 1999
---
Ollie
There once was an otter named Ollie
She always was very jolly
She came to us, and had a big fuss
But them we made Ollie jolly.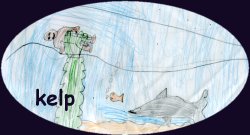 Reflection: I love my work because of the poem and illustration. It was the neatest I could do.
March 31, 1999
---
My Trip to China
Once upon a time I went to China. I ate with chop-sticks. Then we went and looked at the porcelain pottery. Then we went back to the hotel and had jasmine tea. Then we went to the Great Wall of China. Then we went home.
Reflection: I like my work because it has lots of information on China and it really talks about true things in China like porcelain.
February 25, 1999
---
My Mt. Fuji Adventure
The day my class and I climbed Mt. Fuji we had to answer some questions. We made it to the top in three days. While I was climbing I met an avalanche. After we got to the top, it was so beautiful! I took a picture of it. Then we climbed down and there was another avalanche! After we got to school, we went home.
December 18, 1998
---
SHARKS
S harks are fish
H ammerhead sharks are my favorite
A is for acrobat, they sure can swim well
R is for how they roam around
K is for Kinds of sharks
S is for species of sharks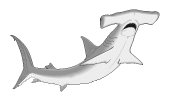 ---
Sand Paintings
---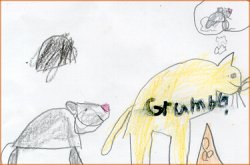 A cat ate the mouse at midnight because he was hungry.
---
Apples
sweet, juicy
caramel, fruit, branches
Apples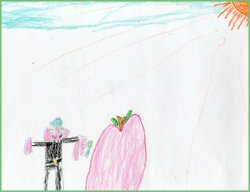 ---
Strega Nona's Magic Lessons
by Tomie De Paola
Beginning
Bambolona went to Streg Nona's.
Middle
Big Anthony was fired.
End
Big Anthony promised never to play with magic again.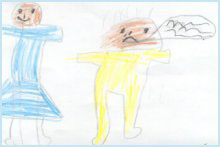 ---
My name is James. I am 6 and a half. I like to play tag and ride my bike. I like martial arts. I like Star Wars and swimming.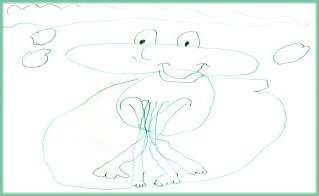 (James recently moved to Port Jefferson Station from Ontario, Canada. Click here to visit his old school.)