Kevin's Page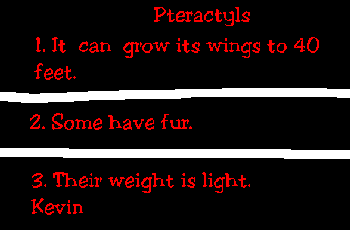 ---
My Trip to Mexico

First I went to the ruins. I climbed to the top of a pyramid. Wow! Second I went to a whale watch in Baja California. Third I went to Mexico City. Unfortunately it was modern. Next I went to Belmapan. (It's a jungle) After that I went to Cozumel. The diving is very good there. I went to Puerto Vallarta. I bought a lace tablecloth. Seventh I finished my vacation in Acapulco, watching the cliff divers.
May 17, 1999
---
Canis Lupis
Once upon a time a wolf met seven wolves. They looked nice. Adam took care of them. He named the pack "Dog." They were watch wolves. They hunted well. So they went off for food. Five days later on July 8th it was very hot. It wasn't easy. They realized that they were domestic. They lived happily after.
Now we know dogs as domestic animals. Dogs are good pets.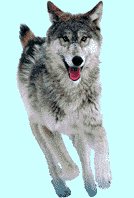 April 23, 1999
---
Stone Fox
by John Gardiner
Jan. 26, 1999
Reflection: It was easy to do a slide show and fun. I worked and worked somemore on my slide show. I love making slide shows.
P.S. Mrs. Silverman is the best.
Jan. 22, 1999
graphic organizer scanned by Jonathan L., our fifth grade technology helper
---
Dec. 21, 1998
---
Sand Paintings
---
My Partner
I trust my dad. He's and architect so he could draw very well. Once he took me on his boat. It broke down. My dad showed me how to get out of that mess by waving your hands in the air. A resque boat trailed us. Computers always help him.
---
---
Interaction
Today we did an experiment on interaction. For example, we took a battery and put a wire on it. Then we took a lightbulb and put the wire on it. The light went on!
---
Strega Nona's Magic Lessons
by Tomie De Paola
Beginning
Bambolalona went to Strega Nona for help.
Middle
Big Anthony sneaked into Strega Nona's house.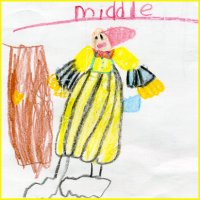 End
Big Anthony got fooled.
---
Watermelon 5 W's Poem
A robit watermelon
Went for a swin
On a watermelon day
In Port Jefferson
Because it was part of the celebration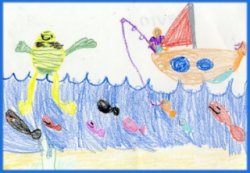 ---
I like my cat JT. My favorite sport is hockey. I like funny movies! I moved this summer into a new house. I met a new friend that might be in our class. His name is Gerard.