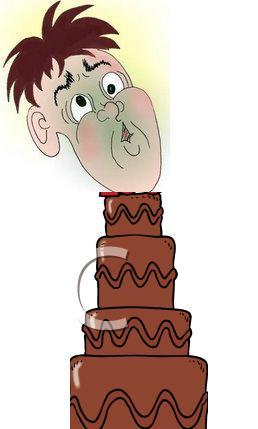 Jonny remembered this type of geometric shape in math class. He knew it was a pyramid because it was three dimensional and came to a point. However, with Morton telling him to be specific, he had to use his other two clues to figure out exactly what it was. He finally said: Pentagonal Pyramid!
Jonny got it right! He was finally able to see what the treasure he won was! Charlie (the owner of Outback Steakhouse) announced to Jonny that he won dinner at the Outback. His dinner was going to consist of all geometricly shaped foods:
A large, circular Blumin' Onion, a huge hamburger on a bun with everything imaginable in the middle (creating a cylindrical shape), french fries shaped like small rectangular prisms and a large piece of 7 layer chocolate cake for dessert shaped like a triangular prism.
Jonny was in all of his glory that he won until he realized that he could not eat his final prize. He was way too full from everything he previously ate on his treasure hunt. How disappointing! In the end, Jonny received a plaque for winning the treasure hunt and answering all of the clues correctly. He was the only one who did!