After we made our class web, we discussed different types of poetry. Our favorites were the acrostic poem and one called Our Autumn Eyes Behold. These were our favorites!
My Autumn Eyes Behold
Red apples in the tree
Orange jack-o-lanterns on Halloween
Yellow leaves everywhere
Brandon Justice
My Autumn Eyes Behold
Orange leaves on the ground
Yellow flames in candles
Orange jack-o-lanterns shimmering in the dark
Sean West
My Autumn Eyes Behold
Orange jack-o-lanterns in the windows
Black cats running across the road
Red trees in the back yard
Lauren Phillips
My Autumn Eyes Behold
Brown trees sitting in my yard
Red leaves lying on the ground
Green monsters that are trick-or-treating
Michael Ham
My Autumn Eyes Behold
Brown birds flying south
Golden dogs playing in the wind
Silvery moon up high in the sky
Marisa Calvio
New friends on Thanksgiving
Oven roasted turkey
Very busy because we are going to visit family
Everybody laughs and tries to get along
My brother and me go pick leaves
Big turkey
Eat a whole bunch
Remember our blessings
Alexis Butler
We also did a family writing about favorite fall activities or traditions. We ended up with great stories and memories:
Autumn
We pick apples in the fall.
The whole family has a ball.
We pick pumpkins off a vine.
When we carve them we have a good time.
We go to Buck horn as a family.
We eat Thanksgiving dinner and play games while
Watching the fire send smoke up the chimney.
Alex Frazier
Fall
Fall means football.
Go tigers beat them all!
Fall means Halloween,
Ghosts and goblins not to be seen.
Fall means pumpkin pie.
I can't wait! My, oh my.
Alyssa Henson
The Apple Orchard
Every fall we go to an apple orchard. We pick lots of apples. There are tow playgrounds, and we played on one of them. Her was a playhouse. There were also big haystacks. We still have some apples. My dad picked a basket full. We saw honeybees.
Joshua Forbes
Finally, since it was an election year, we had a mock election and graphed our class results. We also wrote letters to the president of our wishes for our country.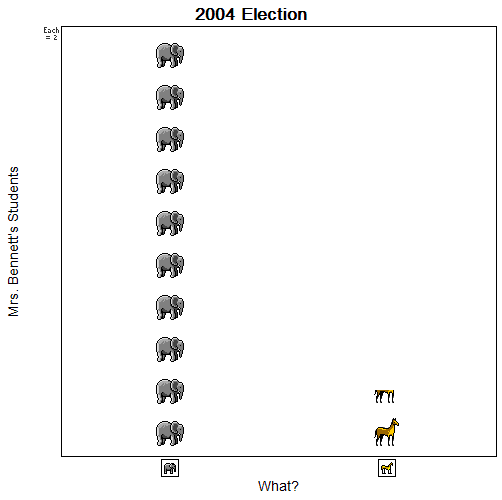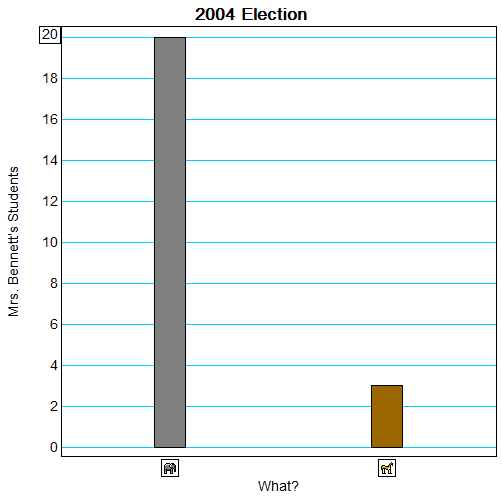 South Carolina State standards addressed:
3-W1.1 - 3-W1.62 (The student will apply a process approach to writing…)
3-W2.1 (The student will write for a variety of purposes…)
3-W3.2 (The student will use literary models sot develop and refine his or her own writing style)