We did a bit of HEDGEHOG research, and these are our 'top ten' favorite hedgehog facts:

10.Hedgehogs are nicknamed 'hedgies'.

9. Hedgehogs are related to shrews and moles. Hedgehogs look somewhat like porcupines.

8. The belly, face and legs of hedgehogs are covered with soft fur.

7. Hedgehogs can make all kinds of sounds! They can make sneezing, snorting and even clicking sounds!! When they are frightened they squeal. They make purring sounds when something is interesting to them.

6. Baby hedgehogs are called 'hoglets'.

5. Hedgehogs hibernate during the winter.

4. The most unusual habit of a hedgehog is rolling itself up into a ball. This prickly 'ball' has spikes standing out in every direction; its face, tail and feet are tucked out of sight when they do this. The hedgie does this to protect itself.

3. The hedgehog is a nocturnal animal. This means that it sleeps during the day and is awake and active during the night.

2. The most commonly used hedgehog pet used in the United States is the White-bellied Hedgehog.

1. The hedgehog is a small mammal with an armor of spikes which it uses to protect itself.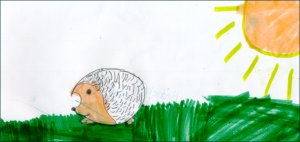 Illustrated by Julia