The Big Snow
by
Berta and Elmer Hader
We read the story The Big Snow by Berta and Elmer Hader. This story tells us what different animals do when winter comes to the woods where they live. We liked this book because we have all of the kinds of animals mentioned in the book right here in New Jersey. We learned a lot about how they protect themselves and how they get through our very cold, snowy winters. We hope you will read this book and like it as much as we did.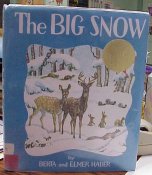 We made a picture graph of how the animals get through the cold winter months. We were surprised to learn that most of the animals stay right here for winter. We were also surprised to learn that some of the animals sleep right through the whole winter season. Check out our chart!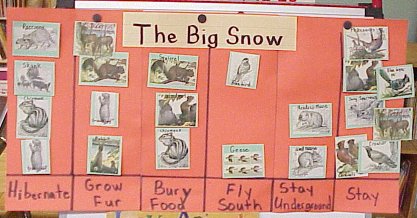 One day, we looked at the book again and thought about which animal we would like to be in winter. We each drew a picture of the animal and told why we wanted to be like them. Here are our pictures.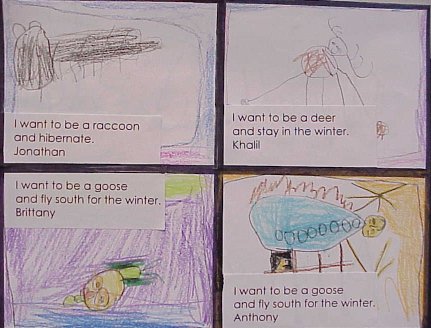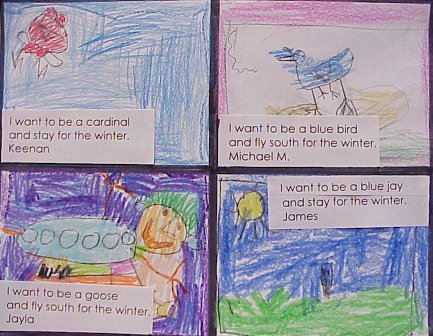 In the story, we learned that sometimes people have to help animals find food in the winter, especially when there is a lot of snow covering the plants, grass and seeds on the ground. We made pinecone birdfeeders and hung them on the fence outside of our classroom. This is how we made them:

1st Tie a string onto a large pinecone
2nd Put peanut butter on the pinecone
3rd Roll the pinecone in birdseed
4th Hang some from trees, on fences and put some on the ground for animals that canít climb.
---
Net Standards
1. Social, ethical, and human issues
Students develop positive attitudes toward technology uses that support lifelong learning, collaboration, personal pursuits, and productivity.
2. Technology productivity tools
Students use technology tools to enhance learning, increase productivity, and promote creativity.
Students use productivity tools to collaborate in constructing technology-enhanced models, prepare publications, and produce other creative works.
3. Technology communications tools
Students use telecommunications to collaborate, publish, and interact with peers, experts, and other audiences.