We read "When Winter Comes" by Nancy Van Laan. It told all about what Nature does in the winter. After discussing what the plants and animals do, we brainstormed the things that we like to do when the winter comes to our hometown of Port Jefferson Station, New York and we can't play outside. Now we would like to share some interactive writing that we did in class to explain our ideas to you.
We love to bake cookies on a cold day!


Let us show you how we do it.

MIX

BAKE

EAT

"Find a big bowl. Put in all the wet stuff and stir it up good. Then mix in the different kinds of sugar. Put in the dry white stuff like the flour. Put in the good stuff like nuts and chips. Put spoonfuls on a cookie sheet. Bake them in your oven. Eat them up…with cold milk!"

Yummy Chocolate Chip Cookies

2/3 cup butter or margarine, -softened
1/3 cup shortening
1 cup packed brown sugar
1/2 cup granulated sugar
1 egg
1 teaspoon vanilla
2 cups all-purpose flour
1 teaspoon baking soda
1 teaspoon salt
1 package semisweet chocolate chips
1 cup chopped walnuts

In large bowl, cream butter, shortening and sugars. Beat in egg and vanilla. Combine flour, baking soda and salt; stir into butter mixture, mixing well. Stir in chocolate chips and nuts. Drop by teaspoons, 2" apart, onto greased baking sheets. Bake in 350' F. oven 8-10 minutes, just until edges are golden (centers will still be soft). Remove to wire racks to cool. Makes about 3 dozen cookies. Yummm....
PLAY IN THE SNOW!
We love to play in the snow and we know many ways to do it, too!
This is what we wrote about our favorite snow games.
I lay down in the snow and look up at the sky. Then I move my feet and my arms up and down, and in and out like I have wings. And I slide my legs all ways to make a dress. When I get up, I see an angel in the snow.
I build a fort with big hunks of snow like blocks. I am a good builder. I make big walls with one door and I go inside. It is too hard to make a roof but some kids can.
I make a snowman. First I make big snowballs, really big. And two smaller. Then I put them up on top and make a face. And put on a hat. And it is a snowman.
I like to find tracks in the snow like a hunter. But not a real hunter that has a gun. I look to see what was walking in my yard. Mostly it was me.
MAKE SNOWFLAKES

Just like kids….no two snowflakes are alike.
Make them out of paper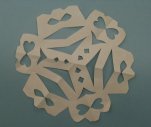 Trace a circle on white paper.

Cut it out.

Fold it in half.

Then fold it in thirds.

Cut pieces out of the edges.

Open it carefully.

See your snowflake.
Make them out of icecream sticks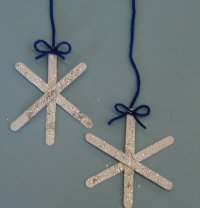 You need three icecream sticks.

Glue two sticks to mane an X.

Glue the other one on top.

Put glue all over the sticks.

Sprinkle glitter on the wet glue.

Let it dry.

Put a ribbon on.

Hang up your snowflake.
Make them out of saltclay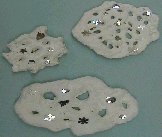 Put one cup of flour in a bowl.

Put half a cup of salt in, too.

Mix it up real good.

Put half a cup of warm water in.

Stir it all up.

Squish it and squeeze it for a while.

Roll it out flat with a rolling pin.

Cut it with a snowflake cookie cutter.

You can let it dry or bake it.

Then you paint it.

Glue on some sequins.
Make them out of styrofoam meat trays

You need some white styrofoam trays from meat or vegetables.

Draw or trace a snowflake shape on one tray.

Cut it out.

Copy the same shape on another tray and cut it out, too.

Cut a slit on each snowflake shape.

Fit them together.

Put a ribbon on it and hang it up.
NYS Standards for English Language Arts
Standard 2: Students will read, write, listen, and speak for literary response and statement.
Students will read and listen to oral, written, and electronically produced texts and performances, relate texts and performances to their own lives, and develop an understanding of the diverse social, historical, and cultural dimensions the texts and performances represent.
As speakers and writers, students will use oral and written language for self-statement and artistic creation.
New York State Standards for the Arts:
Standard 1: Creating, Performing and Participating in the Arts
Students will actively engage in the processes that constitute creation and performance in the arts (dance, music, theatre, and visual arts) and participate in various roles in the arts.