Mrs. Nash
Second Grade
Cumberland Elementary School
Whitefish Bay, Wisconsin
Earlier in the school year our class was involved in an online internet project which asked the question
HOW DO YOU EAT AN OREO?
Since Oreo cookies are a favorite of all, I knew this would be a hit with my students. However, I wanted to make sure that the data was genuine. I was afraid that if my students knew what I was looking for, they might look to see how others were eating their cookie, and then copy off their neighbor. I decided to ask our 5th grade buddies for help. The fifth grade students did a shared writing activity with my class. At the end of the activity the fifth and second graders were given a packet of Oreo cookies and a glass of milk! The fifth graders engaged in casual conversation with my second graders, while paying close attention to how their second grade buddy ate the cookies. They had been instructed ahead of time to let the second graders begin eating the cookies first. When our buddy session was over, the fifth graders went back to their room and wrote down their results. Their information was given to us for graphing purposes. The fifth grade buddies all noticed that no matter how the students began eating their cookie.....they all ate the same way their fifth grade buddies did in the end. Interesting! We took the information that was given to us, and created a spreadsheet in Appleworks 6. We then created bar graphs to represent our data! Since this was done at the beginning of the year, we all did not have a full understanding of graphs and graphing. We found a 12 minute video titled SKILL BUILDING WITH GRAPHS, distributed by 100% Educational Videos located in El Dorado Hills, CA to be an excellent source of information! We continue to use the video and this site to help us learn more about the various ways of graphing.
When you are finished with our questions, access these links for some good ole' fashioned fun!
Oreo Maze- (print out and see how long it takes you to navigate the maze)
Oreo Math- (match the number of cookies to the corresponding number)
Oreo Hidden Phrase- (find words and discover the hidden phrase)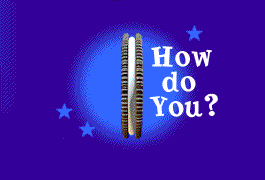 How We Eat Oreos?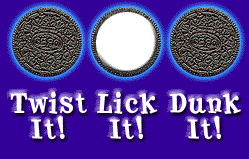 1. What is the most popular way for our class to eat an Oreo?
2. How many more students dunked their cookies instead of twisting
them?
3. Which students dunked the most?