The two first grades read the book Snow Day by Betsey Maestro. They each did a different project. Mrs. Gatyas' class wrote the following story after reading the book.
Snowed In At SCHOOL
Written and Illustrated by Mrs. Gatyas' First Grade
One bright sunny morning we came to school on our buses. The wind began to blow and the snow began to fall and fall and fall! Before we knew it, we had 6 feet of snow! The buses could not come to take us home! There was no way for them to get up the steep hill! We were snowed in at school! We went to the cafeteria and made a lot of food! We ate chicken, pizza, chicken noodle soup, bagels, hot dogs, and cookies! Then we played games in the gym! Then we took the mats down from the wall and had one big slumber party in the gym! It was fun! In the morning we ate bagels, pancakes, cereal, fruit, yogurt, waffles, and omelets! Yum! The sun was shining brightly! The snow was melting and the big snow plows cleaned the snow off the driveway! We got on our buses and went home! We had a lot of fun being snowed in at school!
Mrs. Cole's Class wrote this story:
A Fun Snow Day for A First Grader
It was the first day of winter. At night it started to snow. I woke up and looked out the window. I saw snow everywhere! I woke up my family. I ate, then got dressed faster than a jackrabbit runs. I did lots of stuff in one day. I made a snowman. I went sledding and snowboarding. Finally, I had the biggest snowball fight with my family and friends. I warmed up and ate my yummy lunch. I went back outside with my ice skates. I put them on and skated. I came inside because it was getting dark. I ate a delicious dinner. I was so tired I went to bed. I had an exciting snow day! I know I will be going to school tomorrow but you never know when there will be another fun snow day for a first grader!
Then in computer class the first graders worked on the following activity using Kidspiration.
Click on Image to View Full Size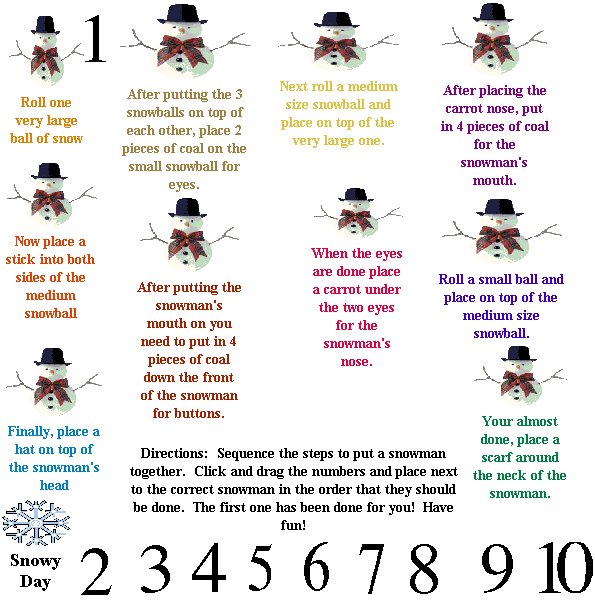 Download Kidspiration Activity File