Read Aloud and Interactive:
As cold weather approached, kindergarten classrooms pulled out the Jan Brett books! I read The Mitten to the entire class after a picture walk. We then discussed the animals, their habitats and the reality of them all fitting into one small boy's mitten. The students finished with a text innovation about what would happen to the mitten if it were to get so big.
Dramatic Play:
Using Jan Brett's masks (from Jan Brett's website), my students retold the story of The Mitten. This was good practice in sequencing!
Science:
We played the Hokey Pokey putting various body parts in and out. After choosing our favorite animal, we played the Hokey Pokey again using their "animal" parts. We discovered not all of our animals had the same parts! If you have overly sensitive students, you make want to discuss ahead of time to choose an animal that has many parts. We then completed a double bubble map carefully choosing the parts all of our animals did have and then those that had wings.
As a follow up, we used Kidspiration to classify the Jan Brett animals in The Mitten by body parts.
As assessment, I had several different pictures of animals and children, as a group, classified them by body parts in hula hoops.
Click HERE to learn more about our learning experience.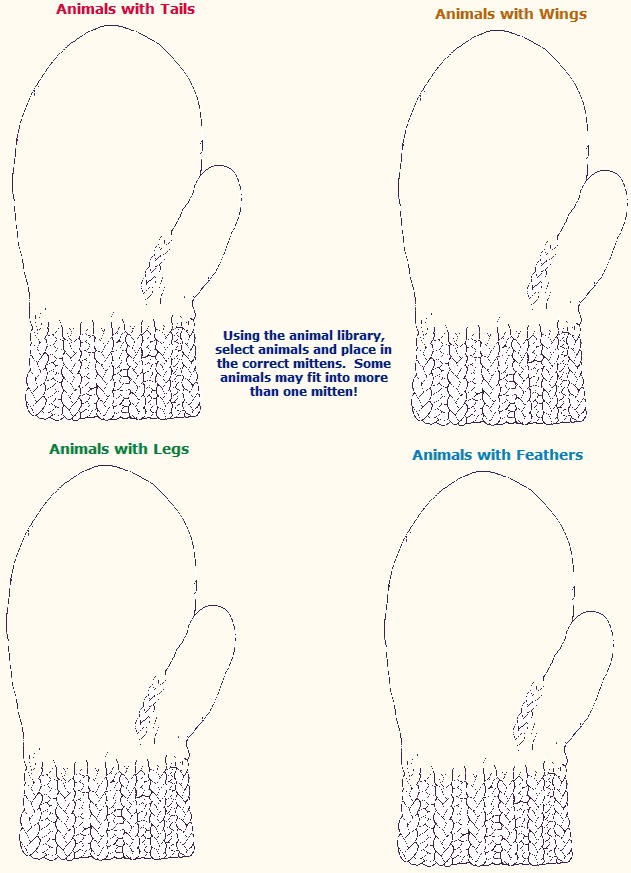 Click on Image to View Full Size

Download Kidspiration File

Note: This activity requires that you install .inl files in the custom library.
1. Put the library file or files (*.inl) into the C:\Program Files\Kidspiration 2\Kidspiration Libraries\Custom Libraries folder on the machine that will be opening the Kidspiration Activity. Mac users can find the folder in Applications.
2. Open Kidspiration and then the Activity. From the Teacher Menu, select Enable Teacher Menu.
3. Return to the Teacher Menu and select, Save with Activity Wizard. Click Next and then click on the radio button in front of Selected Libraries. In the left window, scroll all the way to the bottom under Custom Libraries and select the library(ies) you need and then click the Select button to move the libraries to the window on the right. When complete, click Next. Click Next, Next, and Next again. Select the radio button in front of Another Location and click Save Activity. Save the activity in the location your students will use to access the file (may be a network drive or the hard drive of that machine depending on your particular situation). Now your students will be able to use the custom library of symbols when they access the Kidspiration Activity.