The students prepared to read Owl Moon by reading many nonfiction articles about owls, including the Zoobooks owl issue. We also watched a couple of videos about owls on United Streaming as well. We selected pictures of various owls using Google images and wrote expository paragraphs about owls. Once we acquired our background knowledge about owls, we read Owl Moon.
The students loved the winter story of Owl Moon. We have been experiencing cold, wintry weather in Illinois, and we can certainly relate to the setting and descriptions in the story. After reading the story, we sat in front of the large glass windows of our school and completed a graphic organizer to help us describe the view of nature on that particular day. We then wrote a shared writing response to describe our nature observation.
Finally, we used our Kidspiration program to share information that we have learned about owls. Click HERE to see our finished graphic organizer. We really enjoyed partaking in this project, and look forward to viewing all of the other classes' projects online.
Nature Walk: A View of Chelsea Intermediate School
When we look at the sky, we see the wind making the white clouds move, and snow falling from the sky. We see black power lines in a blue sky. We see the yellow sun.
When we look at the trees, hills, and bushes, we see a lot. We see a nest, a green birdfeeder, and the brown branches of trees. On the sledding hill, we see snow and dirt, but no one is sledding on it. We see some snow on the bushes, and some snow blowing away. We also see some tiny green leaves on the bushes.
When we look at the ground, we see frozen snow. We see patches of ice. We also see specks of salt. We see tiny footprints in the snow. In conclusion, this is all we see on a cold, winter day.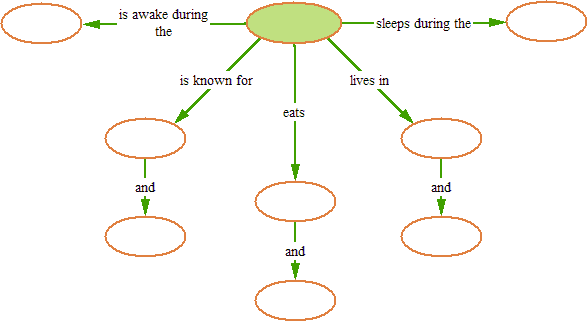 Click on Image to View Full Size

Download Kidspiration File