Interactive Read Aloud: When studying a unit on Winter, kindergarten students enjoy this Ukrainian Folktale adapted by Jan Brett. This is a story about Nicki who convinced his grandmother to knit him snow white mittens. After a mitten is lost in the snow, it becomes a haven for a variety of forest animals. Students enjoy hearing how each animal finds a place in the mitten and what causes the animals to be scattered in all directions. At the end of the story, Nicki finds the lost mitten and has an expression of bewilderment on his face when he notices it is much larger than its original size. Children enjoy retelling and acting out the story with a large white bed sheet as the mitten.
Technology Connection: Jan Brett has a wonderful website (www.janbrett.com) with many interactive activities and video clips of drawing lessons and story read alouds by the author.
Language Connection: This story easily lends itself to the discussion of opposites. Examples are: hot, cold; empty, full; big, small; old, young etc…
Click HERE to learn more about our learning experience.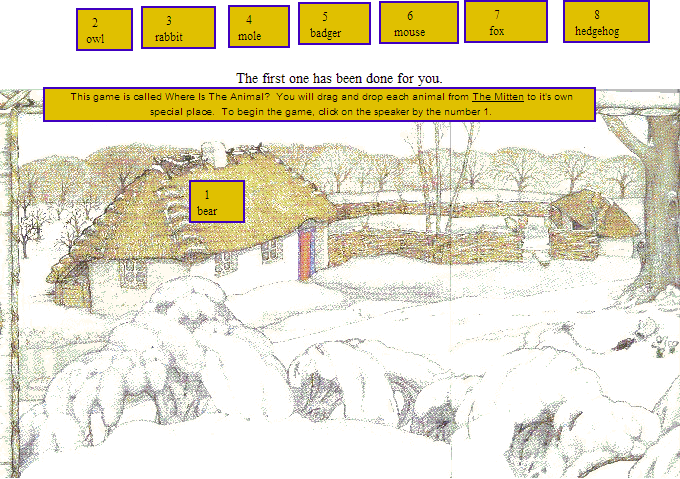 Click on Image to View Full Size

Download Kidspiration File

Note: This activity requires that you install .inl files in the custom library.
1. Put the library file or files (*.inl) into the C:\Program Files\Kidspiration 2\Kidspiration Libraries\Custom Libraries folder on the machine that will be opening the Kidspiration Activity. Mac users can find the folder in Applications.
2. Open Kidspiration and then the Activity. From the Teacher Menu, select Enable Teacher Menu.
3. Return to the Teacher Menu and select, Save with Activity Wizard. Click Next and then click on the radio button in front of Selected Libraries. In the left window, scroll all the way to the bottom under Custom Libraries and select the library(ies) you need and then click the Select button to move the libraries to the window on the right. When complete, click Next. Click Next, Next, and Next again. Select the radio button in front of Another Location and click Save Activity. Save the activity in the location your students will use to access the file (may be a network drive or the hard drive of that machine depending on your particular situation). Now your students will be able to use the custom library of symbols when they access the Kidspiration Activity.