Interactive Read Aloud:
Second graders that live in Texas have not experienced very many snows. They were fascinated when I read the book, Snowflake Bentley by Jacqueline Briggs Martin. This book is the biography of Wilson Bentley, a Vermont native that discovered that no two snowflakes are like! Bentley spent his life taking thousands of photographs in order to prove his theory.
Writing Workshop:
During the month of February our grade level does a research project about famous Americans. While studying character traits of famous Americans we wrote an "Important Poem" about Wilson Bentley. Each student thought of a symbol that represented his life and drew a decorative border around their poem.
Technology Connection:
Kidspiration – Each student created a story map using the Kidspiration symbols to represent the story elements in the book, Snowflake Bentley .The elements that we used were character, setting, problem, solution, genre, and author's purpose.
Next the students wrote a complete sentence to tell about each story element. They discovered that they had created a short summary of the book! They used all of this information to create their "Important Poem" about Wilson Bentley.
Click HERE to learn more about our learning experience.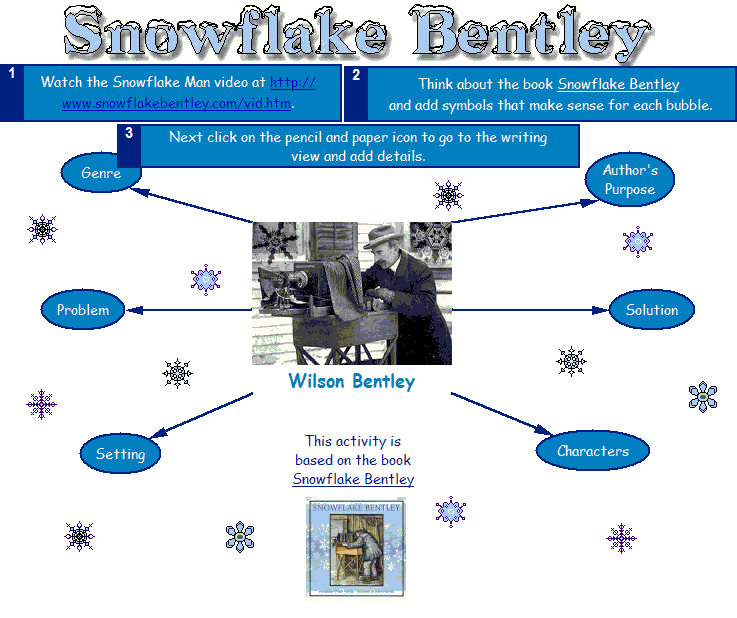 Click on Image to View Full Size

Download Kidspiration File

Note: This activity requires that you install .inl files in the custom library.
1. Put the library file or files (*.inl) into the C:\Program Files\Kidspiration 2\Kidspiration Libraries\Custom Libraries folder on the machine that will be opening the Kidspiration Activity. Mac users can find the folder in Applications.
2. Open Kidspiration and then the Activity. From the Teacher Menu, select Enable Teacher Menu.
3. Return to the Teacher Menu and select, Save with Activity Wizard. Click Next and then click on the radio button in front of Selected Libraries. In the left window, scroll all the way to the bottom under Custom Libraries and select the library(ies) you need and then click the Select button to move the libraries to the window on the right. When complete, click Next. Click Next, Next, and Next again. Select the radio button in front of Another Location and click Save Activity. Save the activity in the location your students will use to access the file (may be a network drive or the hard drive of that machine depending on your particular situation). Now your students will be able to use the custom library of symbols when they access the Kidspiration Activity.