My class recently had the opportunity to spend the day learning about bunnies. We paired a popular fiction story about a little bunnies' day with an informational book by our favorite science author Gail Gibbons.
Our fiction book was a sweet story by Margaret Wise Brown. This enchanting book describes the joy bunny discovers as she listens to the sounds around her home one spring morning.
After reading the story the class brainstormed a list of words that describes the noises bunny hears that morning. We then connected the sound words with the animals from the story. The students all joined me at our computer (connected to the TV) and we used Kidspiration to connect the sounds to the animal that made them.
Later that day we had the opportunity to read Gail Gibbon's book Rabbits. Using their writing skills (brainstorming, webbing, rough draft etc.) the students were given the opportunity to write about rabbits. They could choose to write about Bunny's Noisy Day or write an informational story on rabbits. All the stories came out so wonderful. I have included a few for your pleasure.
Rabbits
Rabbits have long ears. A rabbit can eat carrots. They dig holes. Rabbits have a family. Rabbits are mammals.
I like the part when bunny jumped up and made noises. He listened and he heard a woof sound. He went home and he snuggled in his blanket.
Rabbits
I like rabbits because they can jump. Rabbits are white and brown. The rabbits way their tails to make signals to tell other rabbits there is danger.
Rabbits
I like rabbits. They can jump. They have 4 to 8 babies. They can eat carrots. They are mammals. I love rabbits because they are soft.
Click on Image to View Full Size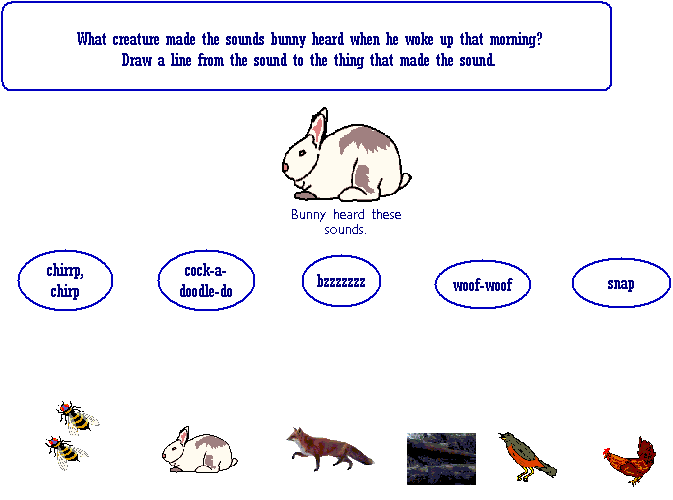 Download Kidspiration Activity File

© Patricia Knox & Susan Silverman - Kidspired Bunnies 2003