In this story Bunny is looking for a new home. She checks with all the animals in the forest, but always finds something wrong with each new place. One is too cold, one is too wet. She finally finds the perfect place, her own burrow. We wrote a different ending together as a class. Next week in library class while some of the children are signing out library books, others are going to try out our Kidspiration activity that goes along with the book , The Bunny of Bluebell Hill by Tim Preston.
Bunny ran as fast as she could. She ended up in the state of Florida. Actually, she was in Disney World. First, she bought an all day pass to go on all the rides and see all the shows.
Bunny's favorite ride to go on turned out to be the water slide, because she loved the water.
Her most exciting part of the day, was when she met Mickey Mouse himself. He said to her, " Hello Bunny. Where did you come from?"
Bunny said, "I am actually looking for a new home." Mickey asked Bunny if she would like to live in Disney World with him and Donald Duck and Daisy Duck too.
Bunny said "Absolutely!!!!!. Thank you."
So the Bunny from Bluebell Hill has a new address. It is Room 114 (that is our class's address too) Disney World, Florida.
The End
Click on Image to View Full Size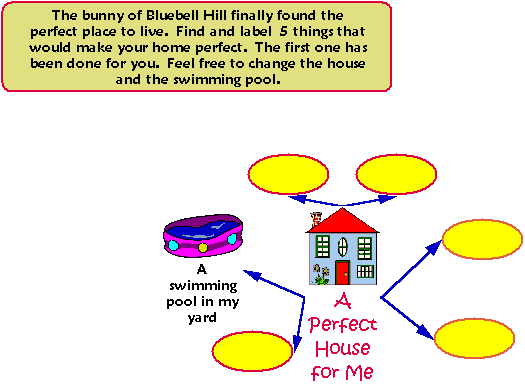 Download Kidspiration Activity File

© Patricia Knox & Susan Silverman - Kidspired Bunnies 2003