A Retelling of The Missing Snowman by Jo Albee
Written By: Mrs. Bowles's First Grade Enrichment Class
Maddy, Ben, Brai, Ryann, & Madeline



Our class read the story, The Missing Snowman, as a shared reading. We decided as a group to retell and re-write the ending of the story. In the original story, Johnny's mother buys him a snow globe to remind him of his times together with his snowman friend. Below you will find our shared-writing experience...
---
Once upon a time, it was really snowing outside. A little boy, Johnny, made a snowman because he wanted a friend. He dressed the snowman up like pirate. Then his friends came over and they dressed the snowman like a clown. Finally, they dressed him up in a scarf, tall hat, buttons, a carrot nose, and eyes made of coal. This made him into a regular snowman.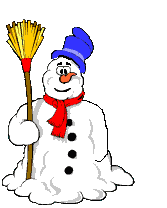 Then the snowman started to melt. His mom got really upset because his friend was disappearing. There was only a little bit of snow from the snowman left. He rolled up three small snowballs of different sizes and put them in the freezer. Now he could play with his snowman all year long. His friends made clothes for the snowman and the girls even brought Barbie clothes to dress the snowman. He lived happily ever after until next winter when he made a new snowman.
Click on Image to View Full Size