Literature Circles were new for both myself and my students this year. As we experienced them together we came to enjoy them immensely. I have found them to be a wonderful way for the students to share their ideas and show off their work. Literature circles are definitely here to stay in my classroom.
I gradually introduced my grade 2 students to Literature Circle activities during the fall of 2005. I found the sheets Discussion Director, Cool Connector, Super Storyteller, Artful Artist, Passage Performer, and Wacky Word Finder listed by Mrs. Amanda Madden, another project participant, to be very easy to use and the instructions were perfect from my students. (Thanks Amanda) I colour coded the sheets so that the students could at a glance know what the activity was. (DD was orange, CC was green, SS was gold, AA was white, PP was blue and WWF was pink)
We started with the Read Aloud Cam Jansen and the Chocolate Fudge Mystery.(Chocolate Stories internet project) At the end of each chapter all the students completed one activity sheet, then shared and presented their work. Once they were familiar with each activity sheet the students started to occasionally work on the sheets with our Read Alouds, Shared Reading and Independent Reading stories as follow up activites. The more they used them the more comfortable they became with the expectations of each 'job' and enjoyed working on their tasks.
By January I felt the students were ready to try literature circles on their own. During the winter and spring months they worked in groups of five or six. They had free choice from a selection of four titles each time. The groups were never the same twice. The reading level was not a factor as I usually had one selection with a CD or cassette and students were always willing to read with their group partners if needed.
I decided to use popular picture books for most of our literature circles. The students enjoyed a variety of books by;
Robert Munsch,
Michael Bond, Paddington books
Beatrix Potter
Paulette Bourgeouis, Franklin books
Phoebe Gilman, Jillian Jiggs books
All the activities were extremely well liked. I decided to let everyone be the Artful Artist as they all enjoyed illustrating and telling their favourite part. That left five jobs. When there were six in a group I would double up on Cool Connector, Wacky Word Finder or Super Story Teller. Once everyone had their sheet completed the students would meet in a circle on the carpet. During the presentations and discussion time a talking stick was used to ensure that each person had an opportunity to speak and be heard. The Discussion Director was in charge of the talking stick. After each person presented their sheet, all members were given the opportunity to say what the person had done well and what he/she could do to improve the next time. By May the comments were far better than even I could have come up with as suggestions for improvement. It was a wonderful learning experience for all.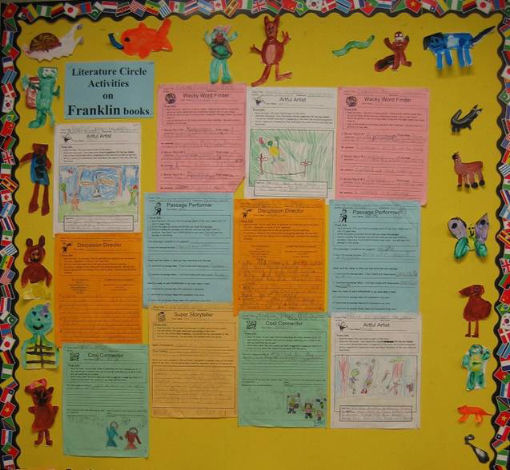 In June the students created a bulletin board with Franklin book characters bordering some of the activity sheets.
For the individual projects this year I introduced story chains, story belts and story hats.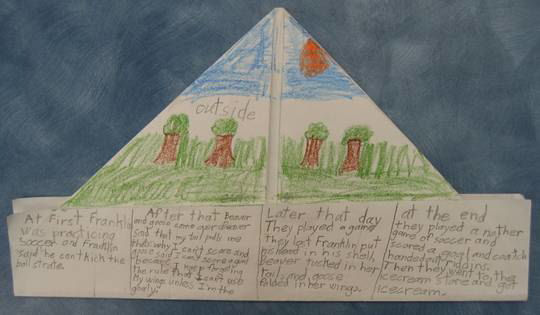 Hats were a popular project.
Look at Grade 2 Newsletters for February and May about some Literature circle activities.
http://www2.ucdsb.on.ca/djschoular/Ireland/irelandhome.htm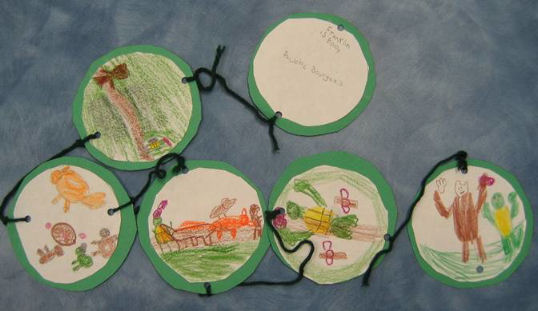 Story belts were also popular.