Charles Hicks

Extension Project

As I thought about the book "The Outsiders", All I could think about was they were good kids born on the wrong side of the tracks sort of speak. They didn't seem to have the same opportunities that the Socs seemed to have. Yet they didn't want pity or charity from the socs or from anyone. They just wanted a sense of belonging. To me this book is a classic and timeless. To me this book makes a statement about how we view one another. It shouldn't matter where you live, how you dress and if you put grease in your hair or not. It's what is on the inside that counts. Not to be cliché but don't judge a book by its cover.

My project would be to have the students come up with their own book cover for the book Based on their feelings of the book and the moral they might have learned from it. They can be as creative as they want. As long as they explain where they got their idea or inspiration from in the book. For my cover I show a train track. This is to show the other side of the tracks idea. But the tracks are merging to represent maybe a better understanding of the Socs and Greasers or a sense of togetherness that Ponyboy and his brothers might feel. With the deaths of their two friends the greasers seemed to come together.

I would rate my project as expert. Though I may not be very creative the students can be as creative as they want. They can express their thoughts on the book and their feelings. Whether it be abstract or not. They can be visually creative in a well organized manor. It will also help draw attention to the book. Though I only touched on a small theme in the book this project opens up a wide variety of ideas and brain storming. Overall I think this project is very good and that the students will take interest in it. Even those who aren't as technologically advanced as others.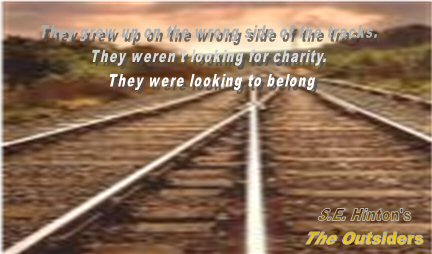 I think this is a project many students can enjoy and be as creative as possible.