Name: Elizabeth Baker
Course: EDLA – 615
Date: 7/28/06
Professor: Susan Silverman
Topic: Literature Extension Project – The Skin I'm In by Sharon Flake
Accepting who you are
"The Skin I'm In", by Sharon Flake is a very powerful book. It is all about a very insecure teenage girl name Makeela, who tries to fit in as best as she could. It took a new teacher Ms Saunders and a friend Caleb to help her to rise above her insecurities. Growing up in the Caribbean, as a child, one is able to accept oneself quite easily because there are not much ethnic differences. The population of Jamaica consists of over 95 % of people who are African descendent. This is not quite the same in the USA, here there are so many different races and cultures that one can easily be confused about one's own identity.
As you read the book you can't help but feel and understand the struggles and trials of this young girl. Sharon Flake painted a picture of a very bright girl who is fatherless and lives in the inner city. Due to Makeela socio-economic condition she was unable to dress as the other kids in her class. Makeela felt that to be accepted by her peers she had to be closely associated with three other popular students. The names of these students are Charlese, Raise, and Raina. Charlese was characterized as a bully and a show-off. This was not a fault of Charlese because she lacks proper guidance. Charlese's big sister Juju her guardian was a misfit herself.
The book placed a lot of emphasis on a person's face. On page 16 one student Larry commented that Makeela's face needed to stay out of the sun. Another student suggested that Makeela's face is black and beautiful. Ms Saunders had to remind the students that one has to accept and like one's face, and it did not matter if anybody else liked it. Ms Saunders was a really good role model for all her students. She also informed the students that the birthmark on her face did not define who she was, nor did it stop her from achieving her goals. Therefore they should not judge a person character merely by looking only on the person's face.
During the course of the book Ms Saunders motivated Maleeka to tap into her hidden talents that she did not know she possessed. Maleeka was able to overcome her "inferior complex" by developing her writing skills in her diary.
The book had an unfortunate turn of event when Maleeka assisted her friends in trashing Ms Saunders's classroom. In the end Maleeka had to face up to the responsibility of what she had done. She also admitted to the world that she was a beautiful African American girl.
This story brings me back to my childhood days in the 1970s on the island (Jamaica). I recalled that as young children, my sisters and I were not given any dolls. Why you may ask? My father was adamant that the dolls on the markets at the time did not fit the description of black beauty. I was very confused and puzzled as to my father's action. As a child you do not care how the doll looks as long as you own one. But as I grew older I understood what he was talking about. My father felt that if he bought us those dolls we would be very confused about our identity, probably just like how Makeela felt in the beginning of the book.
For this reason I have generated a project with a number of black Barbie dolls that were created in the 1980s see Faces2.
Response project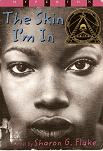 My Project is a collection of Black Barbie dolls.
It is a book called "The Skin I'm In"
I like my project because it was fun researching the Barbie dolls. It's every girl wish to have the latest Barbie doll that reflects her beauty.
When someone views my project, he/she will see a product that African American children can identify with.