Susan and Pattie melted! But have no fear, they've reappeared! That's right folks, our project coordinators have followed the sun to bring you another collaborative Internet project.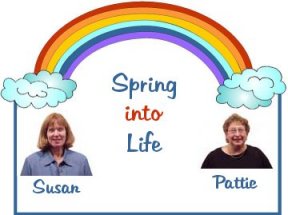 Project Objectives:
Since this is a global project, the activities are designed to support learning standards from a variety of geographical areas. It also supports the following National Educational Technology Standards for Students. (NETS)
NETS for Students
1. Basic operations and concepts
2. Social, ethical, and human issues
Students develop positive attitudes toward technology uses that support lifelong learning, collaboration, personal pursuits, and productivity.
3. Technology productivity tools
Students use productivity tools to collaborate in constructing technology-enhanced models, preparing publications, and producing other creative works.
4. Technology communications tools
Students use telecommunications to collaborate, publish, interact with peers, experts, and other audiences.
Project participants will be expected to list the learning standards for their state or region. They are welcome to list the NETS standards.
Recommended For Students:
Grades 1-4 (ages 6-9)

Summary:
The topic of study for this project is on animals and/or plants that become active in the springtime. What a perfect time to learn about migration and hibernation, not to mention protective coloration! Students will engage in multi-disciplinary activities with a science emphasis that will be showcased on this web site. The project timeline was planned to coincide with Earth Day. Susan and Pattie will accept all submitted work electronically. Please keep graphics down to under 10.
Date:
All materials are due by April 30, 2002. The site will remain posted to be used as a resource for teachers and students.
Number of Participants:
There will be a separate page for twenty-five participating classes. More classes will be added if Susan and Pattie have the time and energy!
Suggested Activities:
Life Cycles of Plants and Animals (example)

Plant and Animals Illustrations (example)

Create Graphic Organizers (example)

Graphs (example)

Charts (example)

Animal Comparisons (example)

Poetry (example)

Student Reports (example)

Riddles and Quizzes (example)

Puppet Show or Play (example)

Books With a Science Emphasis (example)

Feel free to use your imagination and add to this list. Interactive writing as well as shared writing and independent writing activities are encouraged.
How to register:
Please e-mail the following information to Susan and Pattie
Your name, e-mail address, URL, school name, town, state, phone number