Our class celebrated Earth Day as part of our study of spring life. We discussed the importance of recycling and taking care of the earth. The class collected plastic items with recycling symbols on them and examined the number in the middle to determine the kind of plastic from which the item was made. With this information we discovered what each item might become after it is recycled. After reading several books about taking care of the earth, the class wrote the acrostic poem EARTH. The class also wrote about how they can take care of the earth and illustrated their stories. To complete our Earth Day celebration, the students made earth sun-catchers using blue and green tissue paper and glue.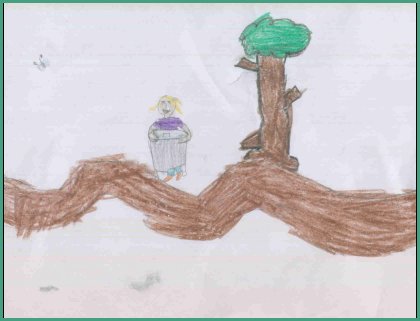 Books we Read
Recycle! : A Handbook for Kids by Gail Gibbons
Just a Dream by Chris Van Allsburg
Dinosaurs to the Rescue! : A guide to Protecting Our Planet by Laurene Krasny and Marc Brown
The Lorax by Dr. Seuss
After reading about recycling, our class wrote the following acrostic poem:
EARTH
Every day we help the earth.
Always pick up trash and litter.
Recycle everything you can.
Take care of the earth.
Help the earth stay CLEAN!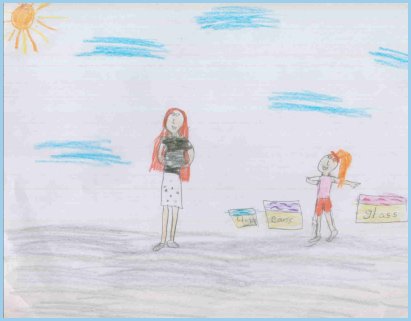 Here's what some students wrote about what they can do to take care of the earth.
I can take care of the earth by cleaning it up. It is good to clean up the earth.
By Jared
I can take care of the earth by recycling and cleaning up trash.
By Kirby
We can take care of the earth by recycling newspapers. We can do a lot of things to help the earth.
By Megan
We can plant a tree to take care of the earth. I can pick up trash.
By Daquan
---
Standards:
Science:
The student will use drawings, tables, graphs, and written and oral language to describe objects and explain ideas and actions.
Reading:
The student will read and comprehend a variety of fiction and nonfiction selections.
Listening:
The student will listen and understand read alouds, discussions, speakers and other oral presentations.
Writing:
The student will write to communicate ideas.
The student will use descriptive words when writing about people, places, things and events.
The file name of each illustration is the artist.