Spring is such an exciting time in our classroom! To begin our "Lifecycles of Animals" science unit, the children are each given their very own mealworms! Over a period of time, the students eagerly observe their "critters" while keeping a journal and using vocabulary such as; larva, pupa, adult, egg, lifecycle, beetle. What a wonderful "hands-on" way to explain the animal lifecycle to second grade students! The children enthusiastically created graphic lifecycles in Kidpix and acrostic "lifecycle" poems. Spring has certainly sprung…and we are thrilled!!
Mealworms

L arva
I nsect
F LY
E gg
C ritter
Y oung pupa
C YCLE
L ittle beetle
E ating potatoes

By Emily and Angela

L oveble
I nsects
F ly
E xciting
C ycle
Y oung
C hild
L arva
E ducational


By Athena and Jenna

L arva
I nsect
F ly
E gg
C ycle
Y oung pupa
C ute Larva
L ifecycle
E at potato


By Jake and Thomas

L arva
I t likes bran
F riendly
E gg
C ute
Y oung larva
C uddly critters
L oveable
E ats potatoes

By Cari and Mallory

L arva
I nsect
F un Pet
E gg
C ritter
Y oung Larva
C ute
L ittle
E ats Bran

By Anthony and John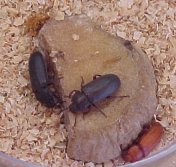 ---
NYS Science…Living Environment
#2. Organisms inherit genetic information in a variety of ways that result in continuity of structure and function between parents and offspring.
#5. Organisms maintain a dynamic equilibrium that sustains life.
Students: describe basic life functions of common living specimens (guppy, mealworm, gerbil). . describe some survival behaviors of common living specimens. . describe the factors that help promote good health and growth in humans.