April 16, 2006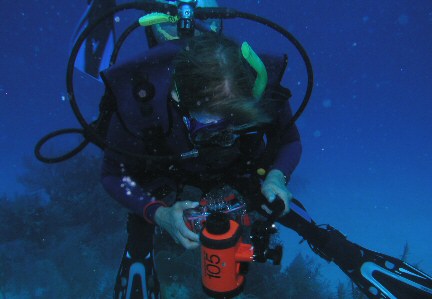 David and I recently spent a wonderful week in Utila.
Several years ago I dove in Cocos Island and only missed one dive. That was the dive that people got to see a whale shark.
After seeing David's photograph of the shark I felt so cheated. For the past several years we researched places where I would have a good chance of seeing a whale shark and it paid off.
We stayed at the Deep Blue Resort and loved every minute of it. The accommodations were lovely and Jasmine went through the trouble of making me delicious homemade vegetarian food for lunch and dinner. David loved having fresh fish for most of his meals.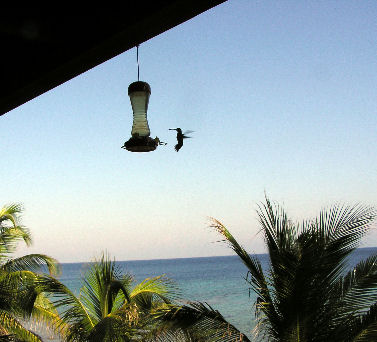 There are birdfeeders outside the lodge with active hummingbirds throughout the day. In the evenings the fruit bats take center stage. They reminded me of my Internet project Stellaluna's Friends. After dinner we shared our underwater photos and watched videos of sharks and other underwater life.
During the days we dove and went looking for whale sharks. Our boat captain had an amazing eye and was always on the lookout for boils. Once a boil is spotted we get ready to jump off the boat with our snorkel and fins.
I can't begin to describe the feeling I had when I saw this gigantic and beautiful animal. I had my camera with me but was so excited that I couldn't find the shutter. By the time I did, the shark was gone! I decided to leave the photography for David. We jumped off the boat five times to see her.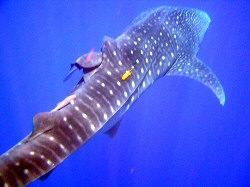 Here is a photograph of the lovely shark. She has a remora in tow and a yellow tag on her body. I used this photograph to create the background of this web page. Enjoy our photographs. Please feel free to use them for educational purposes.
This part of my journal is dedicated to the sharks on our planet. Over 100 million sharks are killed each year for their fins. Whale sharks are still being killed in Asia. There are too many misconceptions about sharks. What would happen to our oceans if all the sharks were gone?
Please click here for more information.