Cloer's Classy Clowns are "Wright On"!
Our class had a really good time learning about the Wright Brothers and their first flight on December 17, 2003, at Kitty Hawk, NC. We did many activities with Mrs. Heatherly's class. In the summer I went to the Outer Banks on vacation and toured the Wright Brothers Anniversary displays. We went up to the Wright Brothers Monument. We had so much fun. So I was very excited when I got home and found out about this project. We watched the video This Is America, Charlie Brown: The Wright Brothers at Kitty Hawk. Then we talked about what we had learned. The next day we read the book The Magic School Bus Taking Flight. We tried doing some experiments with flat paper, crumpled paper, and paper airplanes. The paper airplanes flew, the others just fell to the ground. Then we did an experiment with a hairdryer and a paper made like a wing on a wire. We discovered how air pressure can effect the way a wing reacts.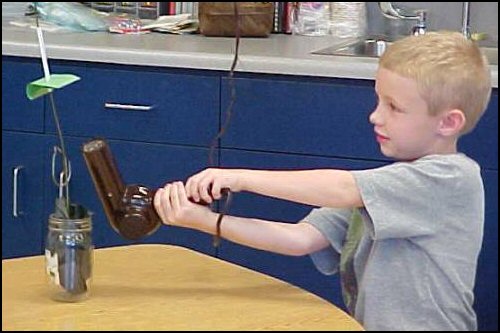 Drew is applying air pressure to the wing. It is going up!
On Friday we had a paper airplane flying contest with Mrs. Heatherly's class. Each student came with their best paper airplane. One of Mrs. Heatherly's students' plane flew the farthest-30feet 6 inches. Will flew the farthest in our class-21 feet 1 inch.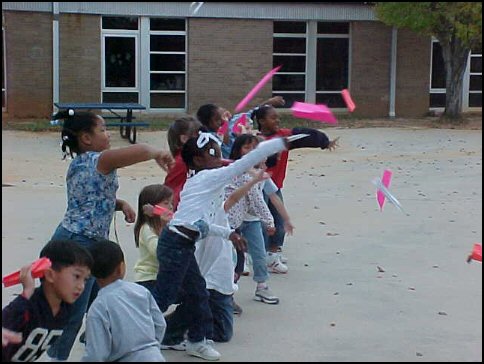 Here we are taking practice flights before the actual contest!
We are trying to decide what the weather will be at Kitty Hawk on December 17, 2003.
We wrote some stories about what we learned. We discussed the 5 W's and why they are important to the reader.
Who? Orville and Wilbur Wright
When? December 17, 1903
Where? Kitty Hawk, NC
What? Made the first airplane flight
Why? Wanted to see if man could fly
The First Flight by Grace
They built an airplane. The plane lasted for 17 seconds. And it landed in the sand. They tried December 17, 1903. It was at Kitty Hawk, NC. Their names were Orville and Wilbur Wright.
The First Flight by Peyton
The airplane lasted 17 seconds. Their names were Orville and Wilbur Wright. They were brothers. They lived in Ohio. They owned a bike shop. They made bikes.
The First Flight by Claire
They tried very very hard - so hard that they flew. They were Orville and Wilbur Wright. They flew in December 1903 to see if men could fly a plane. The answer was yes so they were happy with themselves.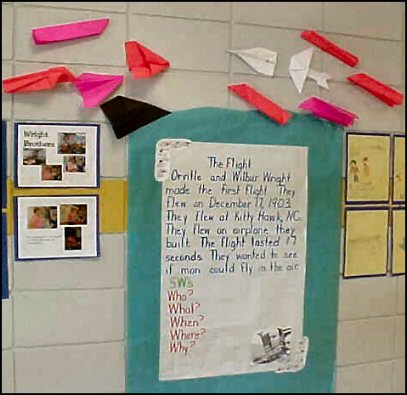 Part of Our Hall Display