We have read several books and viewed two videos about the Wright Brothers. Our favorite book was My Brothers' Flying Machine: Wilbur, Orville, and Me by Jane Yolen and we loved the pictures in First to Fly : How Wilbur & Orville Wright Invented the Airplane by Peter Busby; paintings by David Craig; diagrams by Jack McMaster; historical consultation by Fred E. C. Culick. The best video was This is America Charlie Brown: The Wright Brothers at Kitty Hawk. We have also visited several web sites. Our favorite web site was The Wright Brothers Aeroplane Co. of Dayton, Ohio. We also liked the posters and bookmarks we downloaded from U.S. Centennial of Flight Commission Posters and Bookmark. The best site for photographs for the Wright Brothers was Ohio Link Digital Media Center - Wright Brothers. We also read, discussed and colored a comic book Mrs. Gray downloaded from Space Comics—The Wilbur and Orville Wright Story.
For the project we created a group book about the Wright Brothers. We discussed the important events in the lives of the Wright Brothers using a timeline. We narrowed the list to twenty-three important events or one event per student.
Next we discussed photos we could use on each of our pages. We then added our own drawings. We also posted our book outside in the hall for other classes to view along with the posters we downloaded. On our web site we have put a list of books, videos, and places to visit to learn more about the Wright Brothers. We also created a Concentration Game using photos about the Wright Brothers. It was fun learning about these famous brothers from our state of Ohio.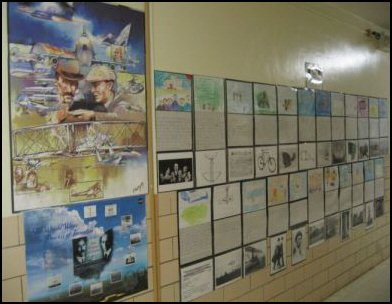 Hall Display

Students can read this book online.