Dear Students,

Now it's YOUR turn to ask the questions. It really isn't difficult to do. Here is a chart to give you some ideas. Try beginning each sentence with the words that are listed. Question 1 should be a "first base" question. Question 2, "second base" and question 3 should be a "third base" question.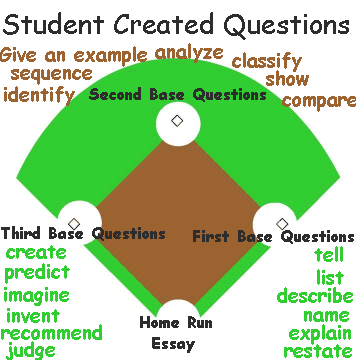 Here are some sample questions that you might find helpful.
First Base Questions

Where was this document written/photographed?

List all the ....in this document.

Who do you think?

How many....?

When do you think this document was created?

Describe what you see in this document.

Why do you think this document was created?

Second Base Questions

What questions would you ask of....?

Could you compare your....with that presented in this document?

Can you explain what must have happened when....

Why did ... changes occur?

Why was it important for...?

What differences exist between...?

Third Base Questions

What would happen if...?

Can you create new and unusual uses for...?

Write how this document makes you feel.

Do you think this is a good or bad thing? Explain

What do you think about this document?

How would you feel if....

What questions does this document raise in your mind?
Optional Homerun Essay
You teacher may need to help you create an essay question and guide you through the writing process.
Finding Documents
There are many places on the World Wide Web to find documents. These web sites have many documents that you can use without getting permission from the author. Ask your teacher to discuss copyright. For more information check out the page for middle school students. This is another good link on copyright.
Our Favorite Places
The New York Public Library Picture Collection Online
Primary Resources and Real-World Data
Create Your Own Primary Documents!
You can make your own documents either on the computer or on paper. If your teacher is scanning your document make sure that you write your words clearly so they are easy to read. Here are some ideas:
Report Card

Birth Certificate

Invitation

Map

Ticket

Baseball Card

Marriage License

Graph
Check out the documents that eight graders made with Kid Pix. They did this in Italian. We don't expect you to be able to read Italian but you will probably enjoy looking at their work.
We hope you enjoy participating in this project.
Mrs. Silverman