Feathered Friends Spring Into Life
We are very excited to participate in this wonderful project, 'Spring Into Life.' Second graders are humming along with the birds these days. Mrs. Singer's Class at Terryville Road School has integrated technology along with literacy skills to make our 'Bird' thematic unit soar high.
The students were engaged in multiple literacy learning activities. Following verbal and written directions to make feathered friends, birdhouses, nests and binoculars were so much fun. A classroom tree came to life with these projects. The children wrote meaningful sayings in speech bubbles and hung them next to their birds in the tree.
Students signed up for bird topics that interested them. Collaborative study groups researched birds feet, beaks, feathers, state birds and individual species of birds. Zoom Birds Web site, teacher-materials and trade books were used to conduct the research. The students learned to use indexes to locate information quickly. Learning journals were used to record their findings.
Pairs of students verbally exchanged their newly acquired bird facts. Kids Pix Deluxe was a perfect program for the children to draw and write what they have discovered about their study group topic. These pictures were then compiled on a web site for the students to revisit and read during Workboard. A great motivator to read what they have written along with their classmates!
Students used a chart and tally method to bird watch at home for three days. Using a child-friendly online graph program, the students transformed their data into a colorful pie graph. Whole class results were compiled and graphed! A great math/technology activity!
During a Workboard Center Activity, Students were engaged reading the student's comment section of this project. Additionally, pairs of students added their own comments right online to be published! They were very excited in days to come to see their comments online.
Well, we guess springtime is not just for the birds. It is for all of us! Fly through our work and enjoy!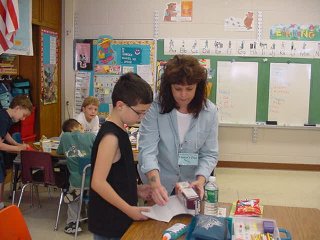 We measured the containers and divided them up into three groups. Half gallons, quarts and pints.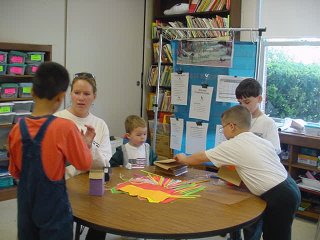 A corrugated roof top works great!
Decorating our birdhouse patterns were a delight! Almost time to wrap them up.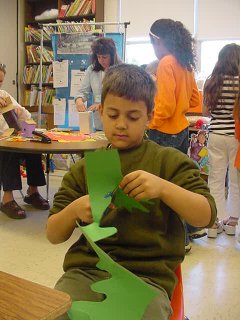 We need lots of leaves for our class tree. Writing bird facts on the leaves were a cinch (not a finch!)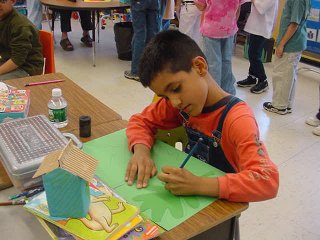 Future Scientist at Work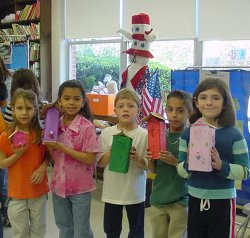 Here are our finished birdhouses ready to attach to our tree. Calling all birds to Room 304!