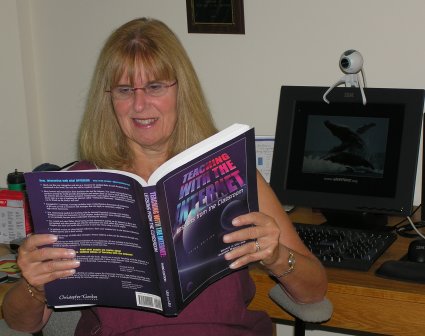 I began my career as a professional educator in 1970. Before retiring from the Comsewogue School District in 2004, I worked as a classroom teacher and as an Instructional Technology Integration Specialist. During 2003-2004 I wrote content for the NCTE, International Reading Association, and Marcopolo's ReadWriteThink web site. For two years I collaborated with a group of Online Museum Educators

at the Franklin Institute.

In 1999 I became a member of the New York State Academy for Teaching and Learning. From 2004-2008 I maintained Comsewogue School District's web site.
Currently working as an adjunct professor at New York Institute of Technology, and as an educational consultant, I mentor teachers, coordinate online collaborative projects, conduct workshops and webinars for Tom Snyder Productions and present at technology conferences. I am a member of the CAST UDL Faculty CADRE. My staff development workshops focus on integrating technology to meet state and national standards. There are some interesting articles about my work on Reading Online and Education World.
I have written a chapter in a book on literacy. The title of the book is Innovative Approaches to Literacy Education. My chapter is Getting Connected: My Experiences as a Collaborative Internet Project Coordinator.
I have been the President of SIGtel, a Special Interest Group in ISTE and NYSCATE's Keynote Chairperson from 2000-2005.
People ask me what programs I use to build web sites. I use Microsoft Expression Web as an html editor and my web page backgrounds and buttons are designed in Paint Shop Pro.
My two children, Rachel and Gary are now grown up and involved in their careers. Rachel graduated Amherst College and is a talented writer. She teaches English at Horace Greeley High School and is on maternity leave. Rachel and Gui became parents for the first time on November 27, 2007. Their baby, Sonya Leah is adorable and keeps me very busy. Rachel gave birth to her son Remy Benjamin on November 17, 2009
Gary graduated the University of Delaware and is working as a special education teacher at Syosset High School. My husband, David, is retired and continues to be my technology mentor. Most of my work is done with Web 2.0 tools and they are so user friendly that I usually figure things out myself.
We live in St. John, US Virgin Islands and Long Island, New York. Living in the Virgin Islands feels like a vacation so we haven't been doing very much traveling. The sky background on this page is actually a photo that I took on a vacation in Little Corn Island a few years ago.
July 18, 2010